Trifold Funeral Program Example
Trifold Bible Memories Funeral Program



This program uses the trifold Bible Memories Funeral Program Template. This religious design features a bible and rosary beed cross. This program contains an order of service, obituary, funeral poem as well as a beautiful photo collage and fancy title clipart.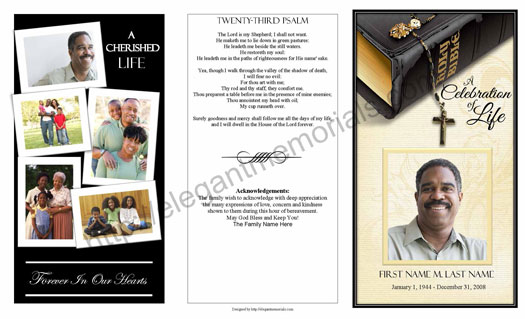 Trifold Funeral Booklet Outer Cover
This is the Trifold Bible Memories Trifold funeral program booklet. It features the Holy Bible at the top of the program, draped with a rosary bead cross on a decorative light beige paisley background. This religious design is perfect for funeral program cover, religious funerals, memorials or homegoing ceremonies. The front cover features a cover photo, which has been styles with a preset border style built into Microsoft Word. The program has the full name and the birth and death date. This program also features a fancy title clipart "A Celebration of Life", which gives the program a professional look. The back cover contains a poem and an acknowledgement from the family and has a decorative flourish break up the text give visual interest.
.The trifold obituaty template has a back panel that can be used for a photo collage. This particluar collage features photos styled with a Microsoft Word border style. With one click, you can give your photos this 3-D poloroid effect. The pictures are slightly tilted for more of a design effect. There is also an added textbox that features "Forever in Our Hearts".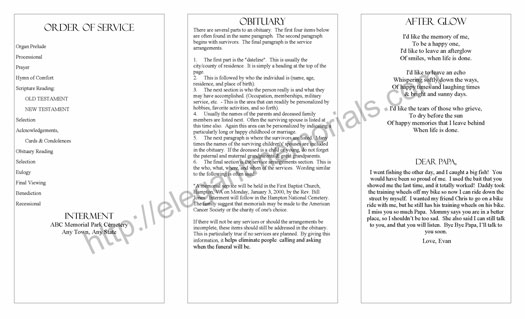 Trifold Funeral Booklet Inner Page
The inner page of this trifold obituary template features an traditional religious funeral order of service on the far left panel. The inside panel has a long obituary. The right side panel has a poem and a personalized note. There are many different poems, scriptures and quotes that you can use in place of the one shown here. The trifold funeral program prints on legal sized 8 1/2"x14" paper. It prints double sided, and fold over twice for a trifold presentation.
Elegant Memorials has over 100 unique and colorful funeral program template designs and layouts to choose from, including many different trifold funeral program templates. Select from a variety of funeral programs themes and colors to help capture the uniqueness of your loved one. Check out our funeral program sample gallery to get geat ideas to help you create the perfect program for your funeral, memorial, homegoing or celebration of life service or ceremony.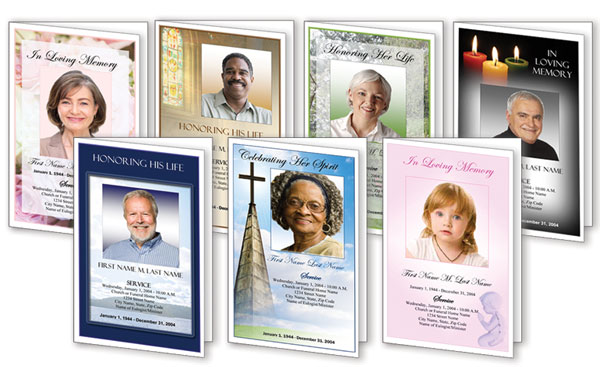 Save Time and Money with Funeral Program Templates
Professional Designs formatted using Microsoft Word or Publisher
All text can be changed, including the program title
Flexible designs allows you to change font colors and borders
6 Different Layouts to Suite your needs
Work on your program in minutes with our Instant Download
Live Customer Support

We have a variety of resources on this site to help you create the perfect program. Some or our information includes: