Sample Memorial Service Program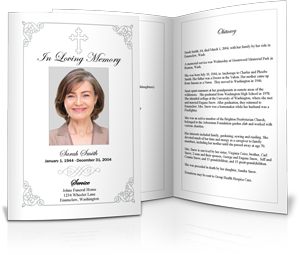 Bifold Plain Funeral Program Template
This sample memorial service program uses the bifold Grey Classic Cross Funeral Program Template. This classic design is perfect for a religious memorial service. This program features an order of service, obituary poem and acknowledgment. This design features a removable clipart cross, which makes it fitting for a secular or nonreligious service. The bifold layout is one of the easiest to work with, and prints on one standard 8 1/2"x11 sheet, printed double sided and folds down the middle. if you are looking for more information on planning a service, see our articles on
funeral and memorial planning
.

Sample Memorial Service Program Outer Cover

This one page Bifold (Single Fold) memorial program features a simple and conservative white background with a delicate light grey ornate frame. It has a light removable cross making it perfect for a religious service. It has a traditional program title of "In Loving Memory" and features a cover photo. The full name and service details are included on the front. The birth and death dates are also featured as well as the service information. The back cover contains a poem and an acknowledgement from the family. It also has a decorative flourish to give visual interest.
This outer cover is very conservative. You could change the memorial program title or caption to something more descriptive about your funeral or memorial service, you could display the cover photo differently, such as in an oval or a picture frame clipart. Also, there are many different poems, scriptures and quotes that you can use in place of the one shown here. The bifold funeral program is simplest funeral program layout and it is the most common. It is very easy to print and assemble.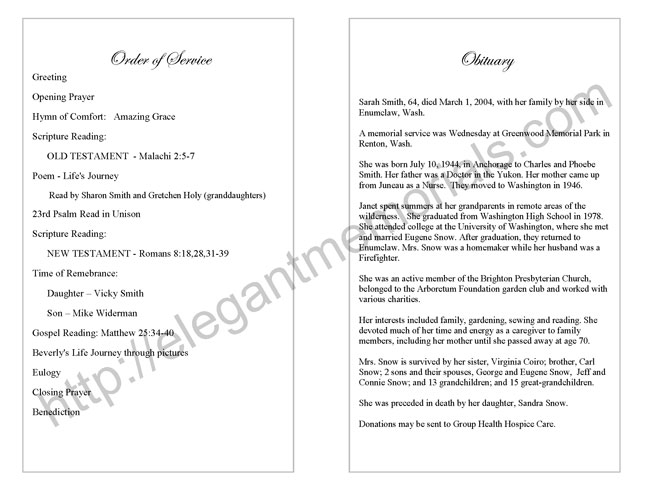 Sample Memorial Service Program Inner Cover
The left hand panel of this program features a less traditional religious funeral order of service which contains an informal greeting, funeral hymn and/or scripture reading. It also has poems, and words of remembrance. They have also chosen to include a memorial photo slideshow as a part of the service. The right hand panel has an obituary. For more information see our article on more information
on
what to include in a funeral program
. You could also add an additional page and include more family photos or a funeral program collage, memorial clipart and personal notes about your honored loved one.
Elegant Memorials has over 100 unique and colorful
funeral program template designs
and layouts to choose from. Select from a variety of funeral programs themes and colors to help capture the uniqueness of your loved one. Check out our
funeral program sample gallery
to get geat ideas to help you create the perfect program for your funeral, memorial, homegoing or celebration of life service or ceremony. We also have more memorial service program template which feature traditional and conservative designs and layouts.
Make the Perfect Memorial Service Program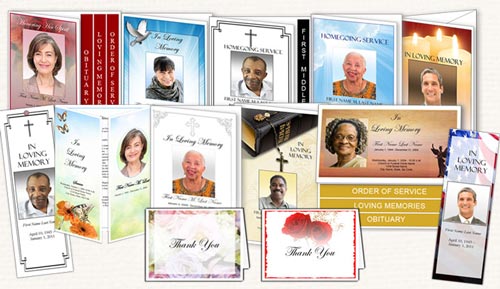 Professional Designs formatted using Microsoft Word or Publisher or MAC Pages
All wording can be changed, including the program title
Flexible Designs and Layout
Instant Download and Live customer support
We have a variety of resources on this site to help you create the perfect program. Some of our information includes: