Celebration of Life Service Program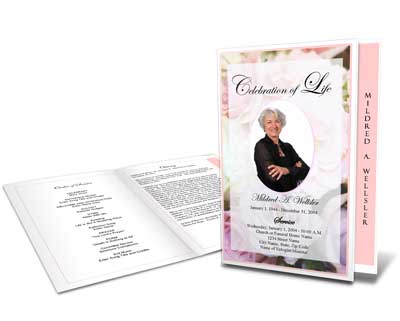 Celebration of Live Service Program Example
This Celebration of Life Service Program uses light and upbeat graduated fold Pastel Memories Program Template. This beautiful floral design is perfect features beautiful pink, lavender and white pastel roses with a pale pink tab and borders. This light and airy design is perfect for a Celebration of Life Service.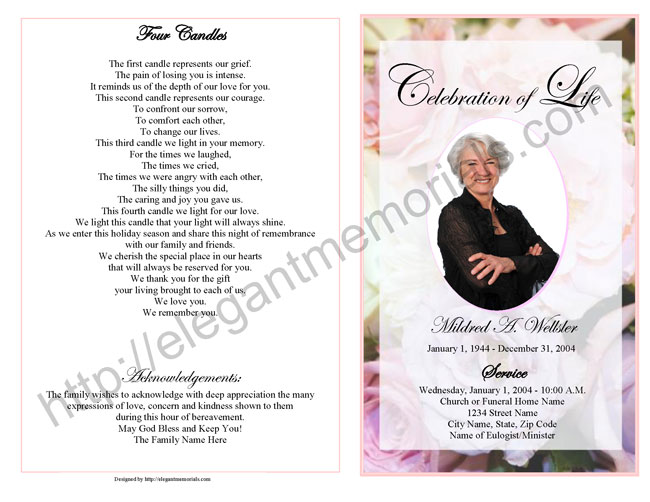 Outer Cover
This celebration of life program template features an 8 1/2" x 11" graduated (or step) fold layout, and has a features a non-traditional pale pink, lavender and white roses background. The single fold graduated (or step) program is a great layout for adding more visual interest to your program, but still keeping it simple and easy to make. This program also features an oval autoshape to display the cover photo. The caption or title is "Celebration of LIfe". The first letter of the caption is slightly bigger to give it more design flair. It also has the birth and death date, as well as service information.
The back panel has the poem "Four Candles" and an acknowledgement or thank you note from the family to other family members, friends and guests. You can put any poem or memorial quote and reading on the back to make your program unique to your loved one.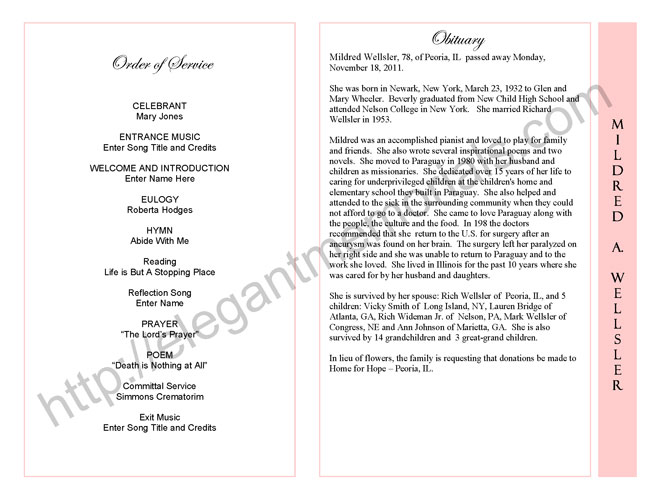 Inner Page
The inner page has a somewhat informal order of service or memorial service outline and is centered on the page. The right hand side of the program has an informal obituary that tells of the life, accomplishments and family of the deceased. This program has a pale pink colored tab that displays the name of the person being honored. This is a simple and and easy to make program.
Elegant Memorials has over 100 unique and colorful funeral program template designs and layouts to choose from. Select from a variety of funeral programs themes and colors to help capture the uniqueness of your loved one. Check out our funeral program sample gallery to get geat ideas to help you create the perfect program for your funeral, memorial, homegoing or celebration of life service or ceremony.
Choose the Perfect Celebration of Life Program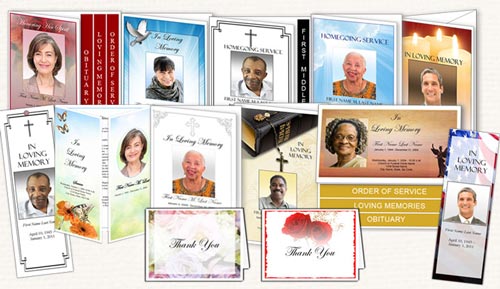 Professional Designs formatted using Microsoft Word or Publisher or MAC Pages
All wording can be changed, including the program titles and captions
Change Fonts, colors and border styles
Many different flexible designs and layouts
Instant Download and Live customer support
We have a variety of resources on this site to help you create the perfect program. Some of our information includes: