Blank Funeral Program Template
Blank Funeral Program Template



This program uses the bifold Plain Funeral Program Template. The plain template has removable borders so that you can have a blank background. This minimalist design features a funeral program captions, cover photo and basic service information. This template is perfect for those who want a very conservative program with no color, designs or distractions. You can also use this template as a blank design to put any background, clipart, or designs that you may want.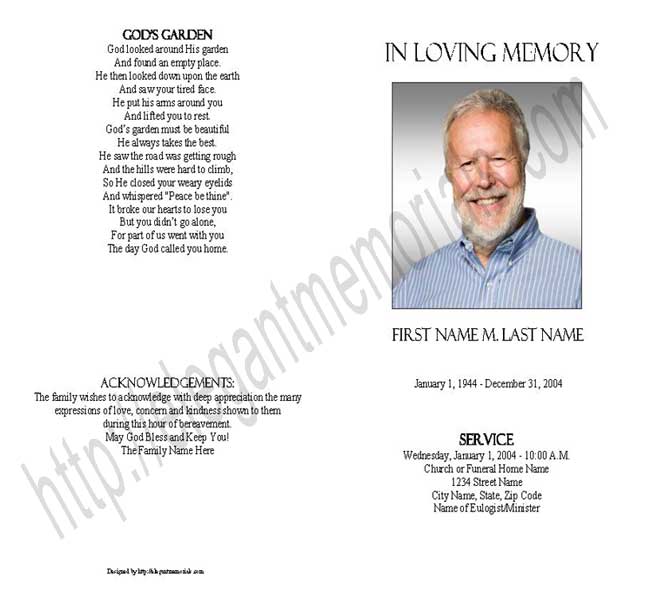 Blank Funeral Program Outer Cover
This is Single Fold Blank Funerel Program is called "blank" (or sometimes plain) because there is no background image, clipart or borders on this design. This design is perfect for those who want a plain, more conservative program for the funeral or memorial service. This blank design was made from the plain funeral program template, which shows a black border. The black border is just a "line" that can be easily removed within Microsoft Word, on the Format Tab. This cover has as name, birth and death date and service information as well as a cover photo. The back of this cover has a poem and acknowledgement (thank you note) from the family.
This blank template can also be a good starting point if you would like to add your own background or graphics. You can start with this template, and then cusomize it using our Fancy Title and Funeral Program Clipart packages can be purchased separately, and can help you give a plain template a little extra flair. You can also use your own custom memorial artwork to make your funeral program as unique as the person you are honoring. This layout is single fold
(utilizing 8 1/2"x11" paper) which is the easiest funeral program template. It prints on one page, double sided, and is easy to print and assemble.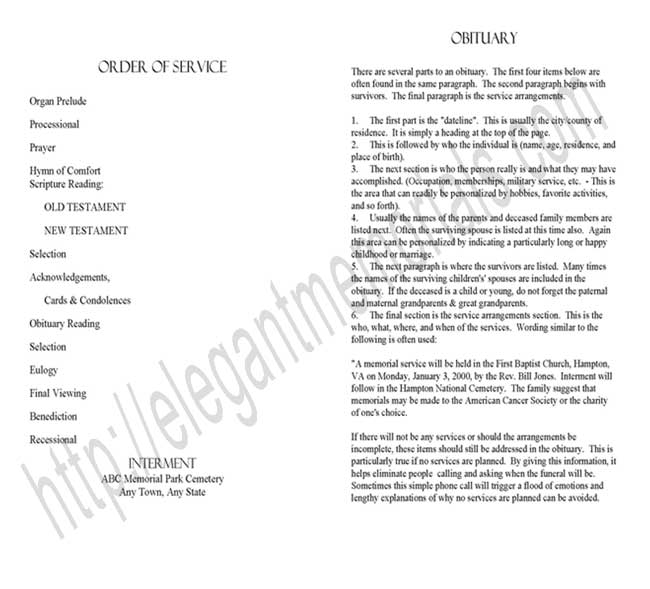 Blank Funeral Program Template Inner Page
The left hand side of this program has a traditional funeral order of service. The right hand side of the program has an obituary. For more information suggestions on what to include in your program, see our article on what to include in a funeral program. You could also add an additional page and include more family photos or a funeral program collage, clipart and personal notes about your honored loved one.
Elegant Memorials has over 100 unique and colorful funeral program template designs and layouts to choose from. Select from a variety of funeral programs themes and colors to help capture the uniqueness of your loved one. Check out our funeral program sample gallery to get geat ideas to help you create the perfect program for your funeral, memorial, homegoing or celebration of life service or ceremony.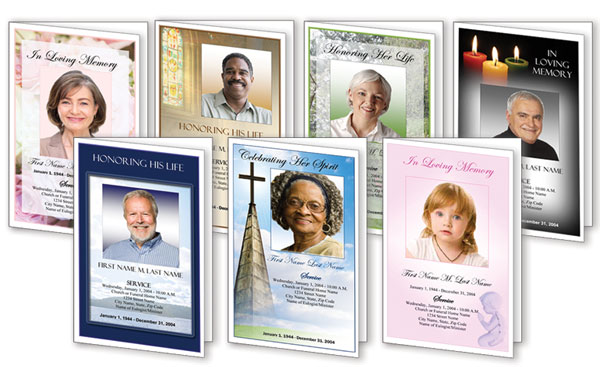 Save Time and Money with Funeral Program Templates
Professional Designs formatted using Microsoft Word or Publisher
All text can be changed, including the program title
Flexible designs allows you to change font colors and borders
Work on your program in minutes with our Instant Download
Live Customer Support

We have a variety of resources on this site to help you create the perfect program. Some or our information includes: