DIY Funeral Programs
Creating and Printing Funeral Programs at Home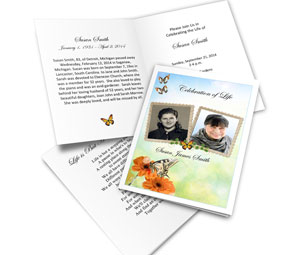 If you're looking to save money when planning a funeral or memorial service, you should consider DIY (Do it Yourself) funeral programs. You don't need to be a design guru or even have a lot of technical experience to make beautiful funeral and memorial materials. You can make an easy funeral program by downloading and using a funeral program template as a guide. Using funeral program templates allow you to quickly and easily create, edit and print lovely and unique funeral and memorial programs and booklets.Simply select a funeral program template design, and gather the information that you will include. Once you download your template, you can edit it using a MS Word, MS Publisher or Apple Pages (for MAC). You can print the funeral programs at home on your home printer, or take your finished memorial to a print and copy shop and print it there. Check our our article on ordering funeral programs if you need other options for getting your keepsakes done.
Selecting and Downloading a Template from the Internet
When choosing a funeral program template to download, consider one that reflects your loved one's personality. There are many themes available from religious, patriotic and nature scenes. Make sure to also choose the right format and layout. Templates come in many paper sizes and design layouts. Make sure you have the necessary software to edit your template such as Microsoft Word, Microsoft Publisher or Apple Pages for Mac.

Decide what you will include in your program
There are many different types of information you can put in your funeral program or booklet. Types of content and information include:
Descriptive Title
Order of Service or Outline
Obituary or Life Sketch
Poems and Scriptures
Family Photos and Photo Collages
Special Notes and Acknowledgements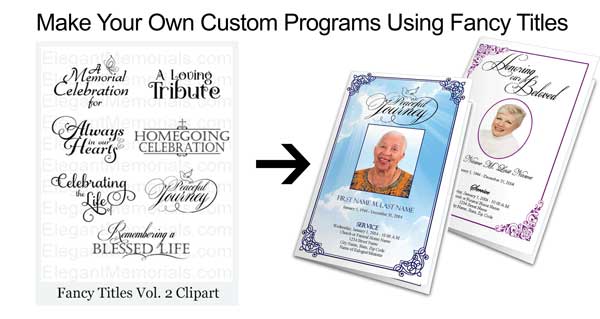 View our Borders and Titles Clipart
Customizing a Template
Depending on the amount of time you have and your skill level, you can easily fill in the necessary information on your funeral program template or customize it for that extra special and unique touch. You can personalize the program by:
• Changing the funeral program font size, color and style
• Adding different colors to the text and backgrounds
• Incorporating images and graphics
• Adding borders and frames to pictures or bodies of text
Choosing a Paper for Your Template
Paper comes in a variety of thicknesses also called weights. The heavier the paper, the more durable it is and the less light will pass through it. Also, consider the paper's texture, finish, color and brightness when selecting when deciding on a style for your funeral program. Whatever paper you decide to use, make sure your home printer can handle it. Common paper weights include:
• 20 pounds -- Standard sheet of copy/print paper. This weight is utilized for everyday printing and has a lot of show-through.
• 22 - 24 pounds -- This paper weight is thicker and good for double-sided copies.
• 28 - 32 pounds -- This is paper is heavier and will give your funeral program a professional look.
• 40 - 100 pounds -- Also known as card stock, this paper may be a bit too thick for folded funeral programs, especially if you are trying to print them at home.
See our article on choosing paper for pringing funeral programs for more detailed information.
Printing a Funeral Program
You will want to make sure your printer has the right amount of paper and ink before you start printing. Remember the cost of ink can be expensive, so weigh all the cost options beforehand. A print shop or office store may be able to print the programs for less money. Before you print, remember to:
• Proofread your copy
• Make sure you chose the correct photographs
• Double check all information for accuracy
DIY funeral and memorial programs can save money but can also give you the flexibility to create a unique and special tribute to your loved one that you can share with your family, friends and guests.