Memorial Prayer Cards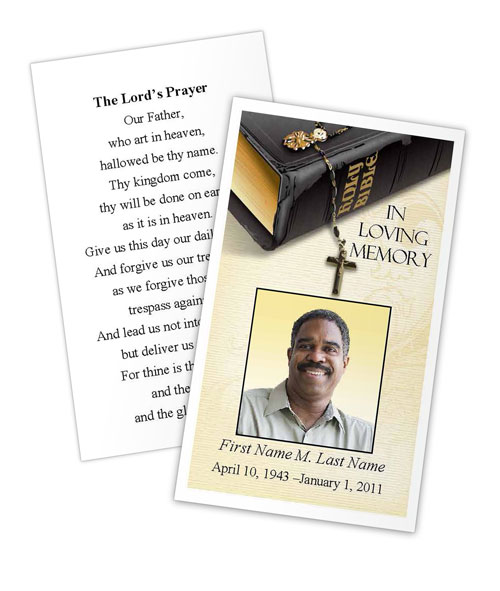 Memorial prayer cards are small cards that traditionally feature devotional pictures, and are distributed at religious funerals and memorial services as a tribute to a loved one who died. These keepsakes, which are sometimes called holy cards or In Memoriam Cards, typically depict an image of a saint or religious scene on the front and a prayer with the deceased person's name and death date on the back. These cards can also feature a variety of non-traditional and secular graphics and images on the cover, and can be distributed more informal memorial settings, such as memorial services, celebration of life services and tributes.
Also see our article on How to Make a Memorial Prayer Card

About the size of deck of playing cards, prayer cards are a timeless tradition that started in the Catholic church around the 15th century. While they can be used on a variety of occasions, such as a baptism, First Communion or anniversary, they are most commonly printed for funerals. Other faiths also use these cards for funerals and memorials. They are also used in a non-religious capacity, serving as a memorial keepsake. Families distribute funeral and memorial prayer cards during wakes or visitations, or if need be, funeral or memorial services in place of or in addition to funeral programs. They are personalized keepsakes that many people carry with them, display with family photos or simply keep with other mementos.
Images and Verses Used on Prayer Cards
It's common to choose a Bible verse for a prayer card that symbolizes healing, eternal life and salvation. However, the family of the deceased person can also choose a verse that speaks to their loved one's life. Traditional scriptures reprinted on prayer cards include:
The Lord's Prayer
Psalm 9:9 - "The Lord is a shelter for the oppressed, a refuge in times of trouble."
Psalm 23:4 - "Even when I walk through the darkest valley, I will not be afraid, for you are close beside me. Your rod and your staff protect and comfort me. "
Ecclesiastes 3:1-8 - "There is a time for everything, and a season for every activity under heaven ..."
Isaiah 41:10 - "Don't be afraid, for I am with you. Don't be discouraged, for I am your God ..."
Families can also choose a non-religious theme. They can use a personalized note, a brief life tribute, or a poem, saying or quote that helps convey their feelings toward their loved one.
There is a space for a colorful image of your loved one on the front, as well as his or her full name and dates of birth and death. The text on the back of the card is interchangeable. Alternate information that can be included is:
Name of cemetery or mausoleum
Plot or vault number
Name of funeral home or mortuary
Designing Personal Prayer Cards
Although prayer cards can be purchased online, it's just as easy and typically more economical to design them yourself. By downloading a memorial prayer card template, you can choose exactly how it looks and its contents. For instance, if you or your loved one has a favorite poem or biblical verse, then a prayer card is a good place to place it.

Eight 4.25" x 2.5" prayers cards are printed on a standard sheet of paper or cardstock, each with its own preprinted designs. The finished prayer card can be laminated. They match many of the funeral program designs, and like these templates, they can be used with or without a photo and all the text is editable.