Funeral Bulletins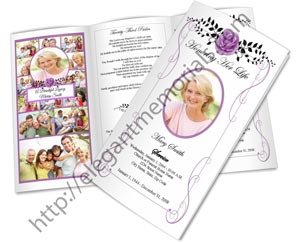 Funeral bulletins are printed handouts that give funeral and memorial service information and information about the deceased. These bulletins personalize a funeral or memorial service and make it memorable. Basic funeral bulletins may be provided by your funeral home or church, or you can create your own funeral bulletins using your home computer and printer. To create a professional looking bulletin that honors your loved one's life consider using a template.

Using Funeral Bulletin Templates to help make a Funeral Bulletin
Funeral bulletin templates are pre-formatted documents that help you create a funeral or memorial service bulletins. These templates are available in a variety of computer software formats, including Microsoft Word, Microsoft Publisher and OpenOffice. Templates can be found on the internet, and are available in a variety of themes, designs and layouts. You can even find church bulletin samples that you can use a a loose guide. This website sells many funeral program and bulletin templates in Microsoft Word and Publisher in different template layouts including bifold (single fold), trifold, graduated fold and large (tabloid) template format. We also have funeral and memorial cards, memorial bookmarks and prayer cards.
Gather information for your funeral bulletin
Once you've decided on a template design, you can now gather the information that you will include in your funeral bulletin. This information usually includes the following information:
If you are going to include a lot of information, choose a large template, such as 8" x 14" tri-fold or large tabloid layout. If you are just including basic information, select a 8 1/2" x 11" bi-fold layout.
Creating your Funeral Bulletin
Once you've collected your information and selected your template, you can download and begin editing. When editing, ensure that you save your work frequently so that you won't lose any of your edits. Before printing your bulletin, proofread your work. When you are ready to print, ensure that you have enough ink on hand to print all of your bulletins . Templates that are very color intensive may used a lot of ink. Also, allocate enough printing and folding time.