Funeral and Memorial Folders
You may be the family member in charge of designing a memorial folder for a loved one's final service. You could also be in the business of designing memorial folders, funeral programs and other mementos for families going through the loss of a loved one. In either case, designing a memorial folder does not have to be difficult. With a bit of planning, you can create something that pays lasting tribute to the person who has died.

What You Need to Know About Memorial Folders
The first thing you'll need to know is the format of the typical memorial folder. Funeral folders (also commonly known as funeral programs or booklets), can be printed across an 8 ½" x 11" sheet of paper and folded in half, to form a booklet. You can also have a similar layout on 11"X17" (Tabloid Sized) paper, for a larger memorial folder. It also can be printed on heavier paper stock than what you would use for business documents. You can also experiment with different paper sizes, layouts and folds to make your funeral folder unique. Layouts such as Trifolds, and graduated or step fold templates can give your funeral folder an elegant look. See our article on funeral folder layouts for more information.
There are four additional things to consider when designing memorial folders.
Cover Images and Graphics: Will you use the front cover to display a photo of the deceased, or will you be inserting a religious or patriotic symbol (or perhaps a scene from nature) on the cover? If you choose to display a photo, select one that is at least 5" x 8", to allow for a crisp photograph when reduced to fit on the page. You can insert text above and below the photo, such as 'In Loving Memory' or "In Rembrance" and the dates of birth and death. You can also frame the photo with a clipart frame or border easily in most word processing and desktop publishing apps. See our article on funeral folder photos for more details.
Back Cover Text: Many families use the back cover of the memorial folder to express their appreciation for the kind gestures others have made. This is also a good place to announce the burial service, memorial donation or funeral repast or dinner details. You can also list information about pall bearers or flower bearers as well as insert additional programs or funeral folder poems.
Interior Text and Images: Because the booklet format is a slightly larger than the traditional funeral or memorial program, you'll have room to include a photo collage or several separate photographs inside the folder. Choose photos that are clear and crisp so that they'll print well, and consider using ones that show the deceased in several settings. The interior text might include a brief obituary, a poem or song, and an order of service.
Add Frames, Borders and Clipart Images: Using frames or borders around sections of text will make your folder easier to read. You can also insert appropriate clipart images such as religious symbols, scrolls or flourishes to fill in 'white space' and to personalize your folder.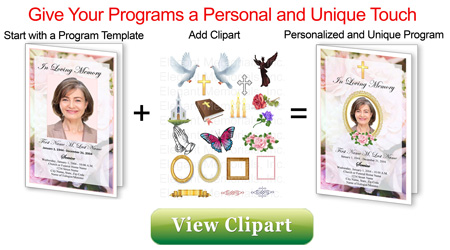 Using a Funeral Folder Template
Designing memorial folders doesn't have to be difficult if you follow the guidelines above. However, a quicker, easier way to make a funeral folder is to use a template. Templates are pre-formated documents that serve as a starting point for designing your folder. You will have placeholders for photos and text, as well as a background graphics, clipart, frames and borders. If you'd prefer not to start with a blank page, this is a good solution. Here are a few tips for choosing funeral folder templates:
Choose an established company that offers customer service both through phone and email.
Make sure you understand what software program your program needs. Common software programs include Microsoft Word or Publisher. You can also find templates in the MAC Pages or OpenOffice programs.
Ensure that you understand what you can edit on your folder templates. Can you change the title of your program, and add additional information and clipart?
Understand what size paper the template uses, and how the program folds
Whichever method you use, a nicely designed memorial folder can be a lasting reminder of a person's life. Whether used alone or with coordinating prayer cards, bookmarks or other mementos, memorial folders play a role in helping friends and loved ones say goodbye to someone special.
Memorial Folder Sample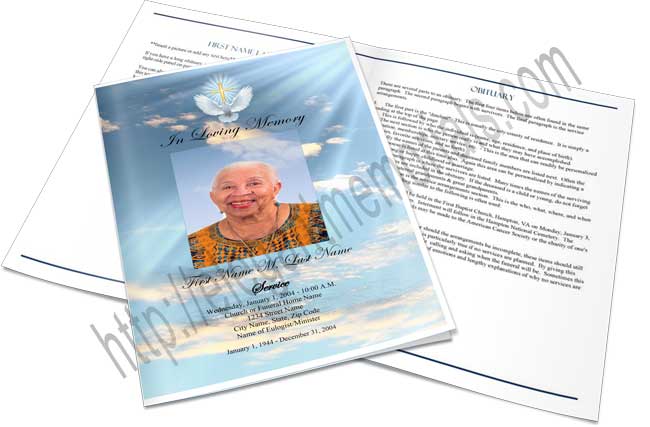 Here is an example of a full color memorial folder. This folder is printed on 11"x17" tabloid sized paper and is one page that folds in half. This size paper has plenty of room for text, photos and memorial clipart. The funeral folder cover can contain a photo of the deceased as well as a title or caption (such as "Celebration of LIfe", or "In Loving Memory"). The inside pages have room for an order of service or funeral outline, an obituary, poems, scriptures, quote or any other information you would like to include. See our article on different types of information that can be included in a memorial folder for more details.