Funeral Flyers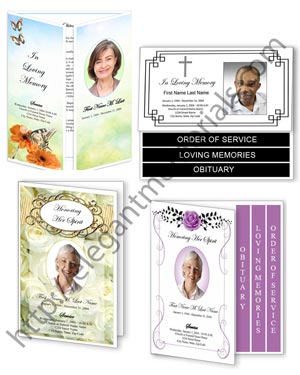 Using funeral flyers to notify friends and loved ones of a memorial or funeral service does two things. It allows you to easily pass along information about the service and honors the deceased with an attractive memento.
A 'funeral flyer' is simply an informal publication in full-page, single sheet format, a single sheet folded in half or a page folded twice to create three equal sections. It contains information about an upcoming service and could also be used as the funeral bulletin or program. Some people choose to print several full sheet pages and fold or staple them into booklet format. Whichever format you choose, funeral flyers provide a simple method of announcing a final service.
What to Include in a Funeral Flyer
You may be wondering what kind of information it's appropriate to include on funeral flyers. Here are just a few of the possibilities:
A photo of the deceased
Additional pictures or photo collages with family, friends or pets
Date, time and location of the memorial or funeral service
Funeral or Memorial Outline or Order of Service
A favorite poem or song
A brief obituary or life sketch
Information about memorials established
The most important task, before you ever begin to create the flyer, is to gather photographs, up-to-date information about the service, what song, poem or scripture your friend or loved one cherished and the basic facts about their life for an obituary.
Here's something else to consider—the funeral or memorial service flyer is the perfect place to communicate what to expect to those who plan to attend. For example, if this will be an informal, outdoor service, communicate that simply, "Memorial to be held at Dock 40, Emerson Lake, casual attire suggested." Another example, "Full funeral mass to be held at the Cathedral of the Annunciation, catered lunch following." Do you see how helpful that might be?
Funeral Flyer Templates
By using funeral flyer templates for Microsoft Word or Publisher (they also work well in Pages for Mac), anyone with basic word processing knowledge can quickly and easily create a flyer announcing a funeral. Funeral flyer templates come in a wide range of designs, layouts and paper sizes, as well as in a variety of different software applications. Here are some common layouts and sizes of funeral flyer templates.
Standard 8 1/2"x11" templates-- These flyers can be single fold or full page and print on standard paper. They are easy to assemble and don't require a lot of information.
Legal Sized templates -- Can be folded in Bifold or Trifold (Z-Fold). Gives a little extra room for photos, poems and quotes.
Memorial Cards -- These are single sheets that can be flat cards, bookmarks or square sized prayer cards.
By the way, you may want to coordinate the funeral flyer you're creating with a funeral card that can be taken home as a keepsake after the service. By using the same colors and themes and perhaps the central photo from the flyer, you'll create a nice, uniform look for the publications.
So, whether you have been given the task of designing and printing a funeral flyer for a loved one, or you provide this service for your clients, follow these steps to create an appropriate flyer.
Gather information to be communicated about the service
Collect photographs that best depict the person who has passed away
Digital photos from cameras or online collections or social media photos are best
Determine which format or layout you'd like to use—single sheet, bifold, trifold or stapled booklet
Consider using a funeral flyer template that allows you to easily insert photos, text, memorial clipart and borders
Using funeral flyers to pass along information prior to a service, and even during the service as a program or bulletin, is a simple way to honor someone who has passed. Use readily available tools such as digital photos, templates and clipart to keep the task uncomplicated.