Funeral Pamphlets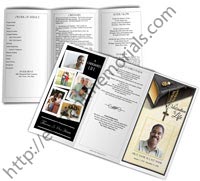 A funeral pamphlet is a folded, printed sheet that has the events of a funeral or memorial, and celebrates the life of the deceased. These handouts may be provided by the funeral home, or you can create them yourself on your home computer and printer. If making them at home, funeral pamphlet templates are a quick and easy solution for easily producing printed memorial materials. Programs don't always have to be printed and handed out. Programs and keepsakes can also be distributed electronically, such as through email or posted to social media and memorial websites. Templates come in many different paper sizes, designs, colors and layouts, and can help you create a unique and personal memorial keepsake for your friends and family.
---
You Can Create a Funeral Pamphlet --
$19.99 each

-- Here's How It Works!
---
Funeral Pamphlet Designs and Layouts
Funeral pamphlets templates come in a variety of designs, themes and layouts. Usually, the design reflects you loved one's tastes and personality. You can choose from a wide range of styles and a variety of colors and themes. Some styles include religious themes, as well as nature and floral themes. Templates, which will help you quickly and easily create a pamphlet, also are available in different software formats, such as Microsoft Word and Publisher. Be sure to choose a template in a software format that you are comfortable with using. For more design and layout ideas, check out our template gallery which gives several examples of finished pamphlets.
Templates are also available in a variety of paper sizes and layouts. A very common pamphlet size is 8 1/2" x 14" (legal) tri-fold. This size provides adequate room for personalized information and pictures. Pamphlets can also come in Bifold as well as Step and Graduated Fold Formats.
What to Include in a Memorial Pamphlet
Before creating your pamphlet, make sure you have all the information you will need. Common information included in a memorial pamphlet include the order of service (details of the funeral or memorial), obituary information, favorite songs, funeral poems, scriptures clipart and photos. Make sure you can edit your template properly and save your work frequently.
With a little effort, you can create a beautiful, pamphlet that will help you cherish your loved one's memory for years to come.
Make The Perfect Funeral Pamphlet ... It's Easy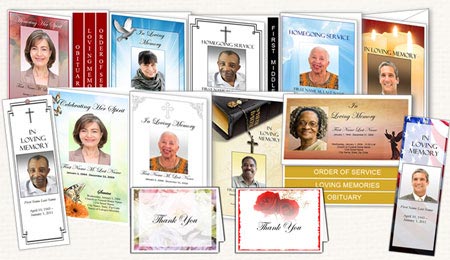 Professional Designs formatted using Microsoft Word, Publisher or MAC Pages
All test can be changed, including the program title
Flexible Designs and Layout
Instant Download and Live customer support